The cell and gene therapy market is currently an emerging market with huge growth potential. Recent technological advancements are significantly facilitating the adoption of this technology and its associated methods, leading to prominent growth potential for the healthcare industry. With the potential to help multiple patients ailing with cancer and other chronic diseases, cell and gene therapies, and regenerative medicine in general, is an attractive new frontier in the healthcare industry. Despite being significantly prohibitive due to their high cost and stringent patient inclusion criteria, cell and gene therapies (CGTs) comprise one of the most promising research fields in healthcare. All clinical trials in cell and gene therapy are being conducted for oncology, including leukemia, lymphoma, breast, bladder, cervix, colon, esophagus, ovaries, and pancreas, among others. This reflects the strong investment from venture investors and big pharma, as well as mid-sized pharma and other larger pharmaceutical companies, into regenerative medicine. The introduction of early-stage clinical activity in gene-modified and cell-based immune-oncology has highlighted the massive potential this field holds. As a result, the demand for manufacturing QC has also increased with increasing number of cell and gene therapies coming to market.
Our healthcare experts have found the manufacturing QC for cell and gene therapy to be one of the most rapidly evolving and dynamic markets and the global cell and gene therapy manufacturing QC market is predicted to grow at a CAGR of 22.80% over the forecast period of 2020-2030. The market is driven by certain factors, which include increasing prevalence of cancer and chronic diseases, rising number of clinical trials for cell and gene therapy, steady investment and consolidation in the cell and gene therapy market, and favorable regulatory environment are fueling the growth of the global cell and gene therapy manufacturing QC market.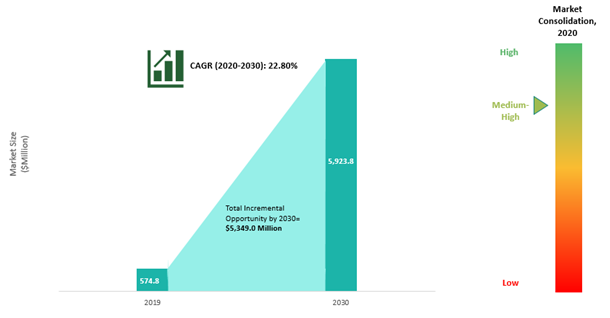 Manufacturing, being a hallmark of enabling advanced therapies to be disseminated across the patient population, is a consistent driving force behind the growth of overall adoption of innovative therapies. Quality control is a critical aspect of manufacturing, particularly considering advanced therapies such as cell and gene therapies. Profit generation aside, the cost of therapied can primarily be controlled through optimizing manufacturing costs. This will also require the optimization of cost in the underlying factors, including quality control. While a majority of regulators are currently mandating rapid testing technologies, CDMO juggernauts have already begun offering services and products based on advanced technologies such as NGS and PCR. Not only as an attractive promoting tool to gather more cell and gene innovators, but these market leaders are also driving consolidation within the industry by acquiring smaller companies offering unique products and services. As a result, there is tremendous dynamicity in the market, propelling overall access to cell and gene therapies even in smaller developing countries.
Market Dynamics
Steady Investment and Consolidation in the Cell and Gene Therapy Market
A large number of biotech companies have offered an IPO (Initial Public Offering) and have continued to raise significant sums in follow-on funding. For instance, Bluebird Bio, whose Zynteglo is approved by the European Medicines Agency for beta thalassemia, has raised over $billion since its Series B round in 2010 - with high% of this post-IPO. Therefore, the rise in investment in biotech companies for cell and gene therapy coupled with growing consolidation in the market is expected to drive the growth of the cell and gene therapy manufacturing QC market.
Opportunities
Drug Approvals and Strong Pipeline of Cell and Gene Therapies
A therapy for spinal muscular atrophy that causes infants' muscles to waste away, marking a milestone in the transformational power of cell and gene therapies for the treatment of a wide range of diseases, which totaled the list of approved cellular and gene therapy products by the FDA. With a number of cell and gene therapies being filed for IND, in the past decade (2008-2018), there has been a significant increase in the approval of cellular and gene therapy products worldwide. According to the FDA, there is a surge of cell and gene therapy products entering early development, evidenced by a large upswing in the number of investigational new drug (IND) applications. Based on this activity, the authority anticipates that the "number of product approvals for cell and gene therapies will grow in the coming years, reflecting significant scientific advancement and the clinical promise of these innovations". With this positive outlook, the cell and gene therapy manufacturing QC market is bound to offer lucrative opportunities for companies in the near future.
Competitive Landscape
Rapid technological developments and their simultaneous adoption among major companies have made the global cell and gene therapy manufacturing QC market one of the most lucrative opportunities for major companies within the precision therapeutics biosphere. With both market juggernauts and emerging companies playing a significant role in the market, this industry is rapidly evolving into a highly rewarding market for manufacturers and end users. Although mostly based in Europe, market leaders such as Merck KGaA and Lonza Group AG, have been at the forefront in enabling cell and gene manufacturing capabilities across North America and the Asia-Pacific regions.
On the basis of region, North America holds the largest share of the cell and gene therapy manufacturing QC market due to a high number of active cell and gene therapy clinical trials, massive government funding, expansion activities by major companies, and an overall high adoption rate for advancing therapies. Apart from this, Asia-Pacific region is anticipated to grow at the fastest CAGR during the forecast period, 2020-2030.

To Request Sample: https://bisresearch.com/requestsample?id=1071type=download
Key Questions Answered in this Report:
• What are the major market drivers, challenges, and opportunities and their respective impacts in the global cell and gene therapy manufacturing QC market?
• What is the potential impact of advancement in QC in the contract development and manufacturing organization among the cell and gene therapy innovators?
• What is the current market demand along with future expected demand for the global cell and gene therapy manufacturing QC market?
• What are the key regulatory hurdles for industry players looking to enter this highly dynamic market?
• What are the key development strategies that are implemented by the major players in order to sustain the competitive market?
• How is each of the following segments of the market expected to grow during the forecast period from 2020 to 2030:
o product
o process
o analytical method
o technology
o region, namely, North America, Europe, Asia-Pacific, Latin America, and Rest-of-the-World (RoW)
• Who are the leading players with significant offerings to the global cell and gene therapy manufacturing QC market? What is the expected market dominance for each of these leading players?
• Which emerging companies are anticipated to be highly disruptive in the future, and what are their key strategies for sustainable growth in the global cell and gene therapy manufacturing QC market?
• How is automation expected to change scale up challenges in the market?
• What is the cost of QC vs production cost for cell and gene therapies and what strategies are leading players undertaking in order to maximize profits?

Within the research report, the market is segmented on the basis of products, processes, analytical methods, technologies, and region. Each of these segments covers the snapshot of the market over the projected years, the inclination of the market revenue, underlying patterns, and trends by using analytics on the primary and secondary data obtained.
BIS Related Studies
Next-Generation Biomanufacturing Market - A Global Analysis
Global Cell and Gene Therapy Drug Delivery Devices Market